10 Thanksgiving Hand Embroidery Patterns
You'll Be Thankful for So Many Embroidery Patterns!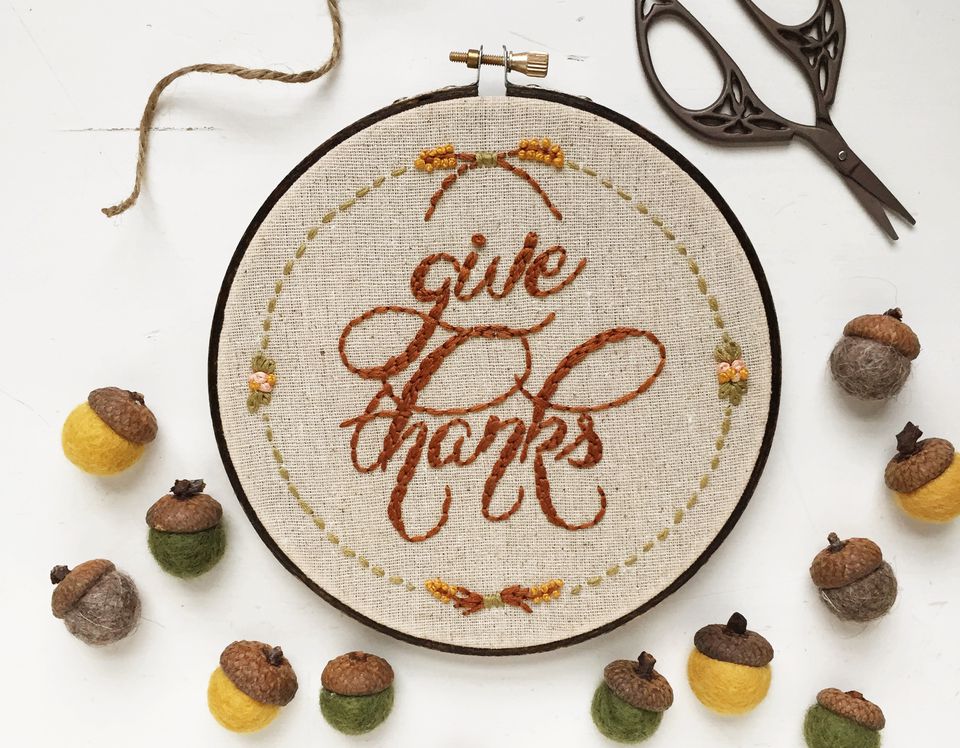 How do you choose to observe the Thanksgiving holiday? With food, family or football? This year, you may want to add embroidery to the list! These 10 Thanksgiving embroidery patterns are perfect to stitch leading up to the big day, in the midst of the celebration, or even after the holiday to keep as a year-long reminder.
Whichever patterns you choose to work on, the finished embroidery is perfect as decor throughout the season, but it also makes a great hostess gift if you'll spend…MORE Thanksgiving at someone else's house. After all, if you aren't making a big meal, you'll have a bit of extra time to stitch!
Be Thankful Front Porch Embroidery Design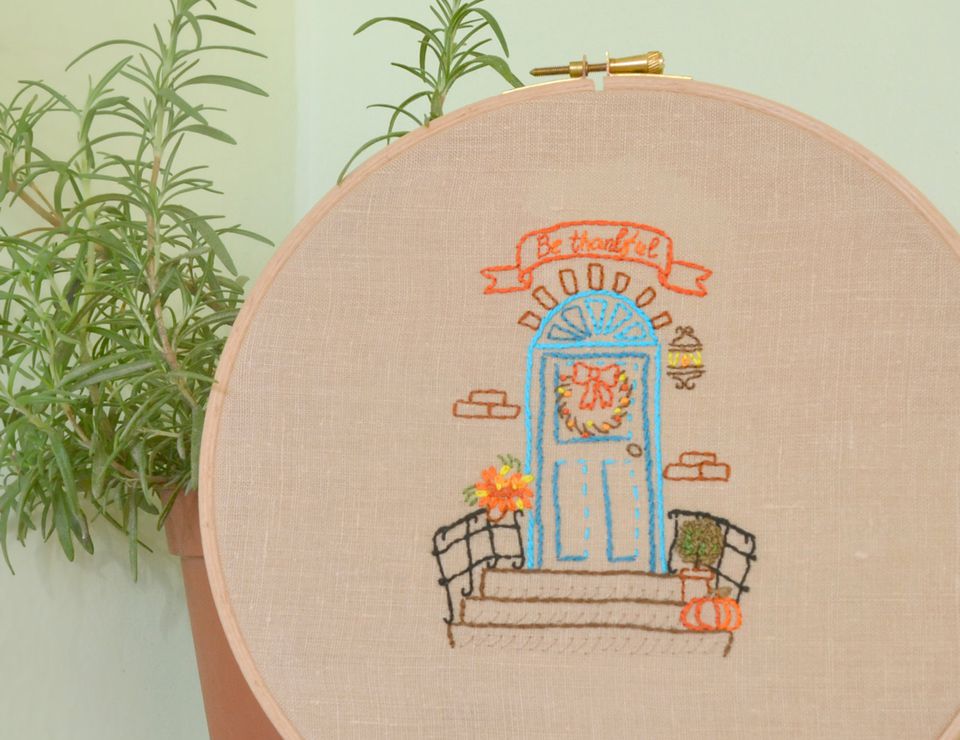 When you think about celebrating Thanksgiving, it often conjures images of home, and hopefully a warm and welcoming day with friends and family. You may even picture the steps leading to a front door, all ready for the holiday, just like in this Be Thankful embroidery pattern from the Naive Needle.
Free Floral Give Thanks Pattern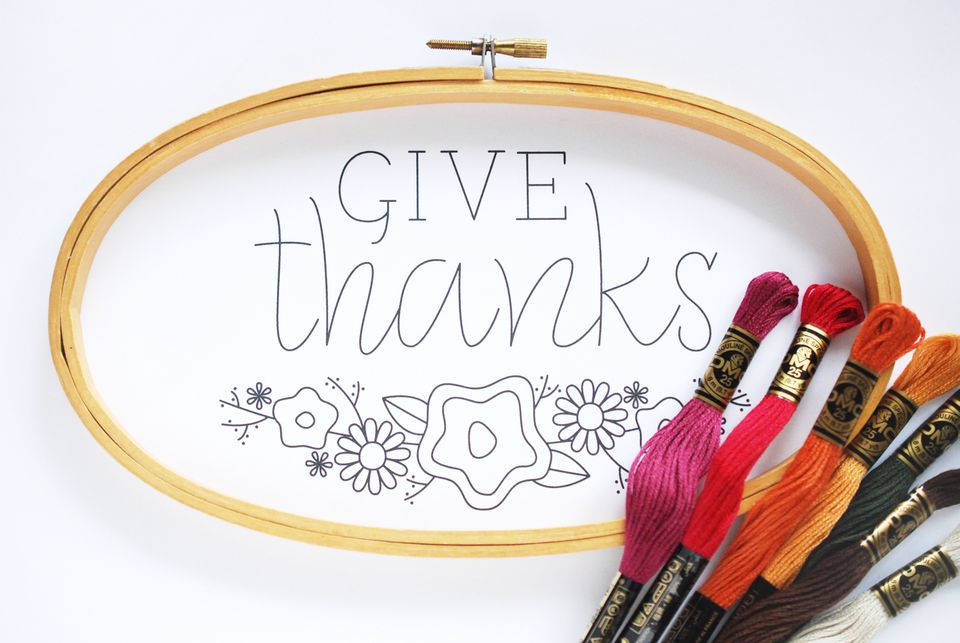 "Give Thanks" is a common phrase for Thanksgiving, but it's a good one for any time of the year. Which is why this free floral design is such a good choice to work on, even as the holiday draws near! The flowers at the base are easy to work, and some are even suited for swapping in felt flowers or other appliqué.
If you want to fill a larger round hoop, try copying and flipping the floral spray so it is mirrored above the text too!
Detailed Happy Thanksgiving Embroidery Kit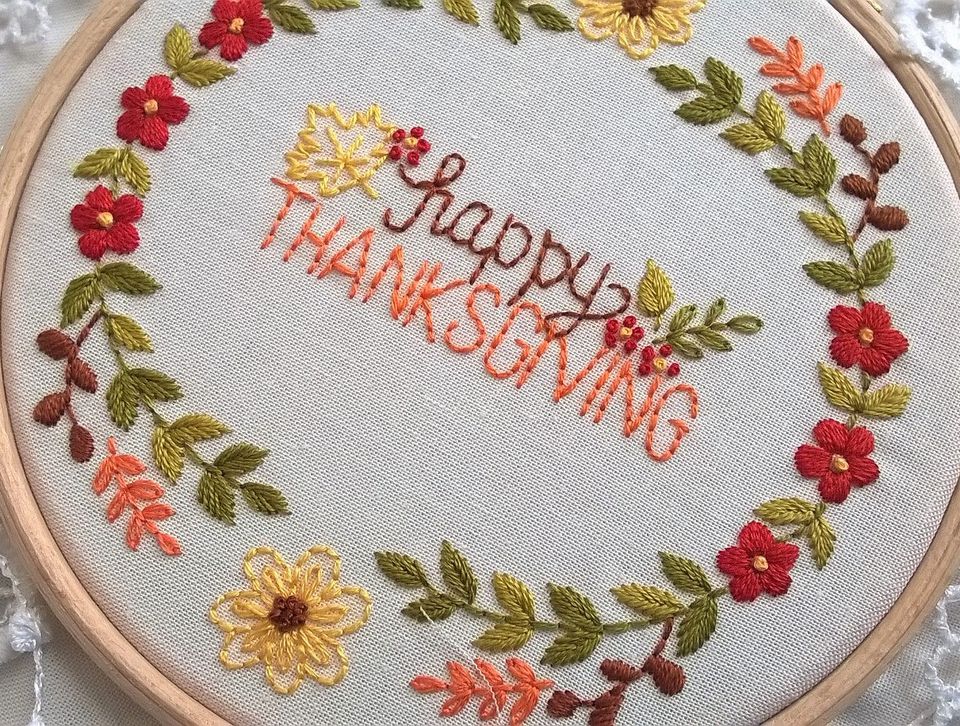 Want to stitch something for Thanksgiving, but embroidery is still new to you? French designer Fileuse d'etoiles offers kits with patterns pre-printed on the fabric, making it easy to get started! Her Happy Thanksgiving design is beautiful and ideal for beginner and intermediate stitchers.
Free Vintage Turkey Hand Embroidery Pattern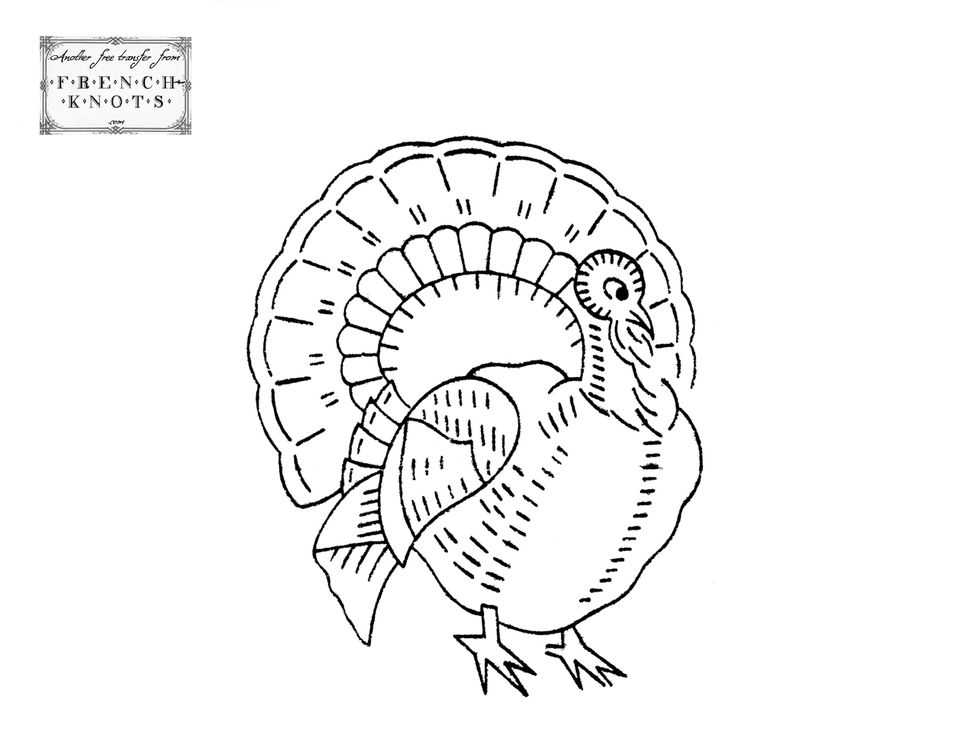 There is always something so charming about vintage embroidery patterns, and this Thanksgiving turkey is no exception! Like many of these vintage designs, it was originally an iron-transfer pattern, but is now a free digital download.
Stitch this large design at the center of a tablecloth or on a pillow for a bit of traditional, but fun Thanksgiving decor.
Full of Thanks Pattern for Swedish Huck Embroidery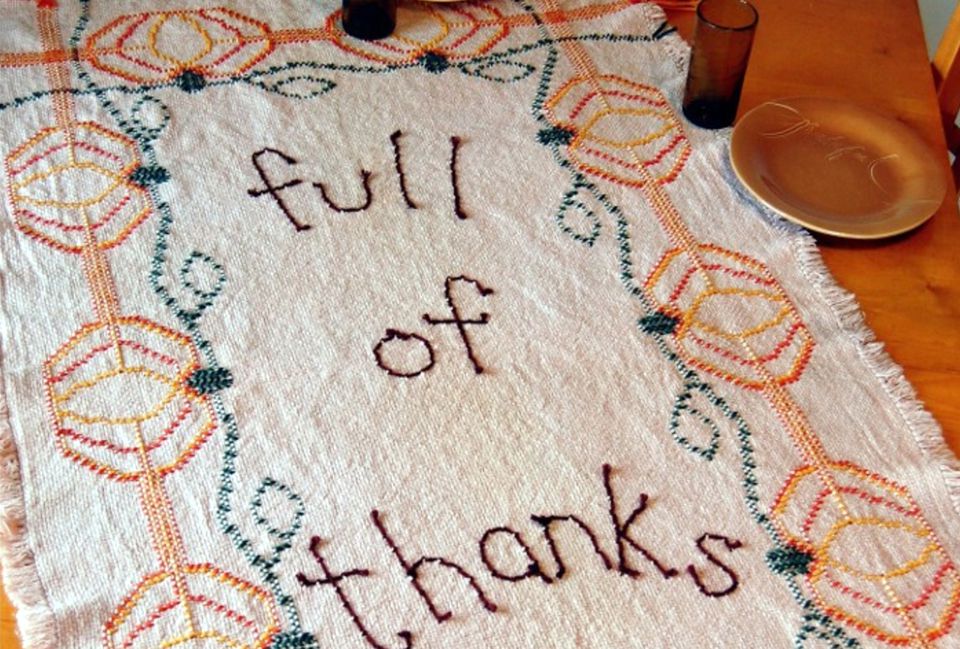 This beautiful Harvest Festival pattern uses Swedish huck embroidery to form a border of pumpkins, something you might not expect to see with this technique. And if you choose to add "full of thanks" in the center, a standard stitch is useful for the lettering. It's shown here as a table covering, but soft monk's cloth makes this a good choice to use as a throw blanket!
Free Embroidery Patterns for Thanksgiving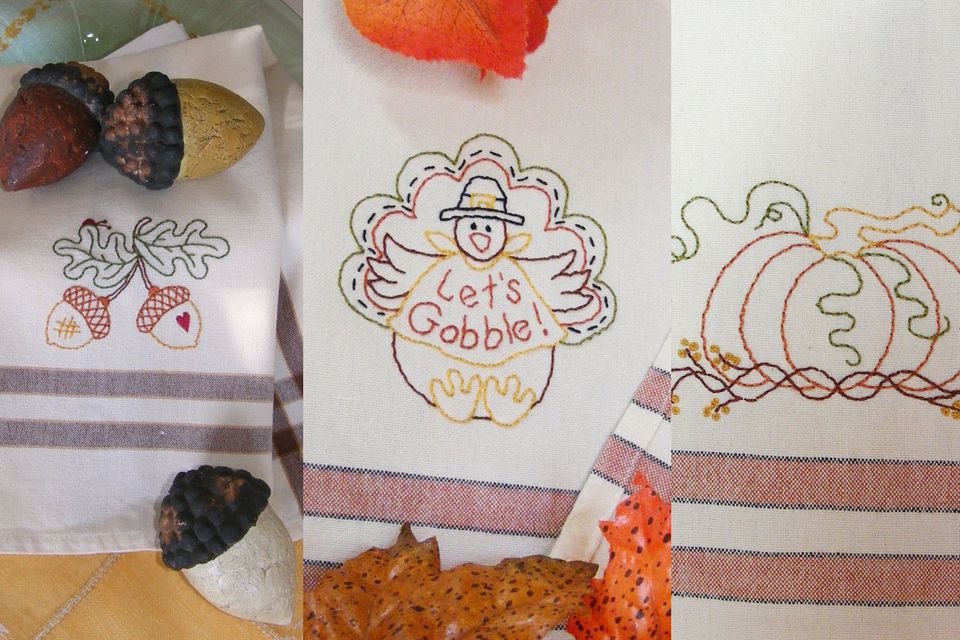 Stitching a simple kitchen towel is a fast and easy way to make a hostess gift to bring along for Thanksgiving, and Bird Brain Designs has plenty of free and low-cost patterns to choose from. The Let's Gobble turkey motif is spot on for Thanksgiving, but the acorns and pumpkin patterns also work well, and they make an adorable trio.
Traditionally Styled Happy Thanksgiving Pattern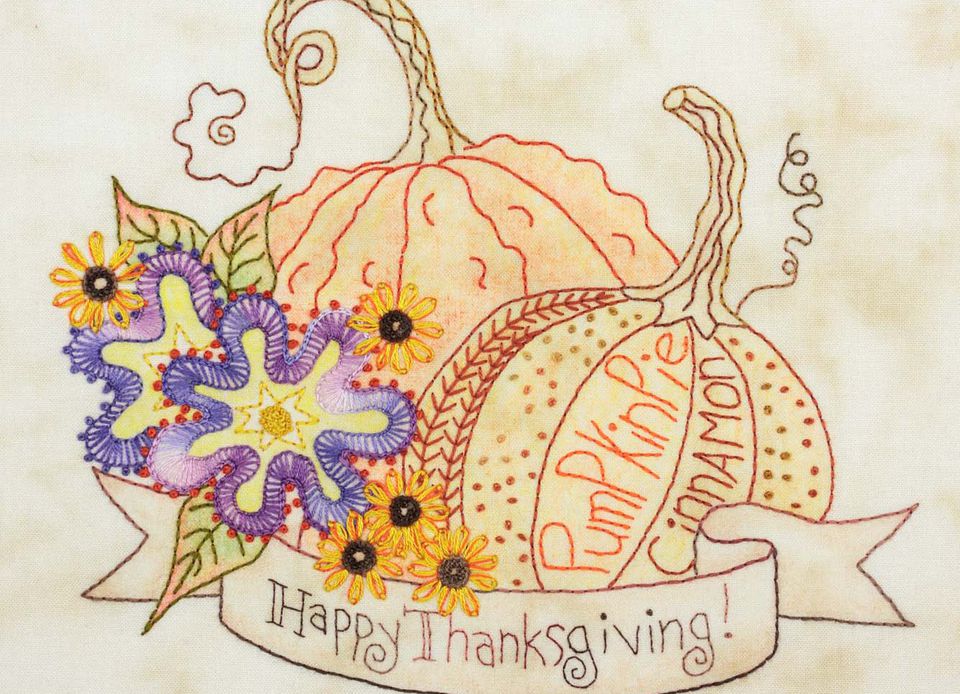 For a stunning and traditional embroidery design, check out Crabapple Hill Studio's Happy Thanksgiving pattern. The flowers use a few more advanced stitches, and the example includes some color tinting to add dimension.
If the "pumpkin pie" and "cinnamon" lettering aren't for you, consider repeating the feather stitch or french knot filling from the other sections of the smaller pumpkin.
Free Gather and Give Thanks Embroidery Design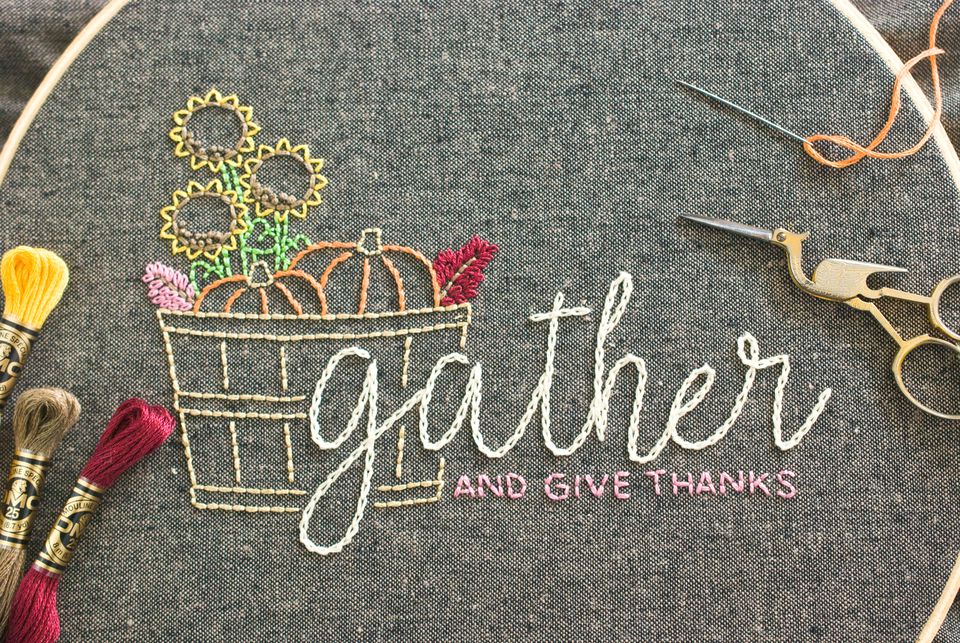 Thanksgiving looks different for many people, but one thing is usually common: gathering friends and family. This autumnal design is a reminder to gather and give thanks, and though there are a few details, it's a quick project and good for new stitchers.
Give Thanks Beautifully Lettered Pattern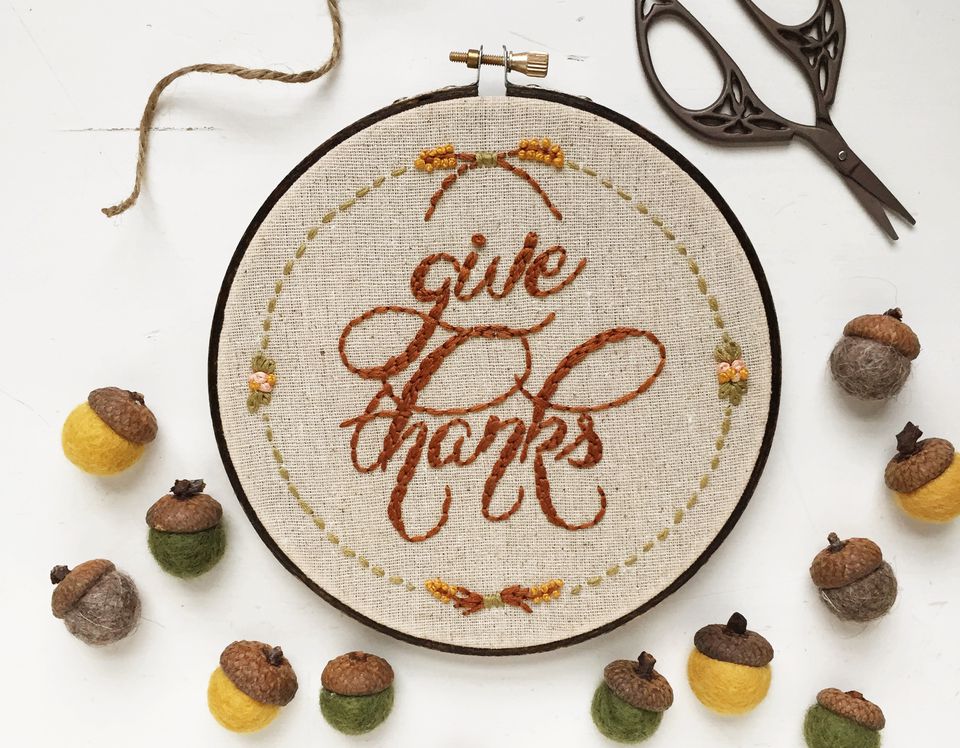 Give Thanks Every Single Day Free Pattern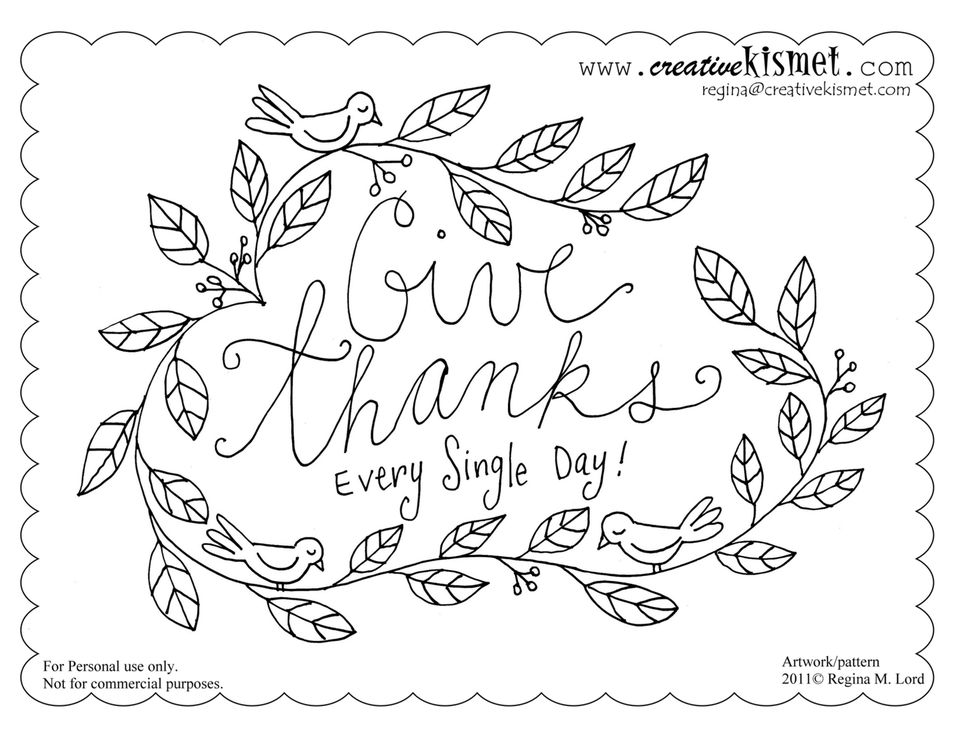 If you want to live life with an attitude of gratitude, you'll love this pattern from Creative Kismet. The sentiment "give thanks every single day" is framed with birds and leaves, which would look beautiful stitched in fall colors. Choose your favorite stitches to work this design, then use the embroidery on a kitchen towel or a wall hanging!
Source: https://www.thespruce.com/thanksgiving-themed-embroidery-patterns-4151265
Important
This site makes use of cookies which may contain tracking information about visitors. By continuing to browse this site you agree to our use of cookies.