Crochet Baby Hats!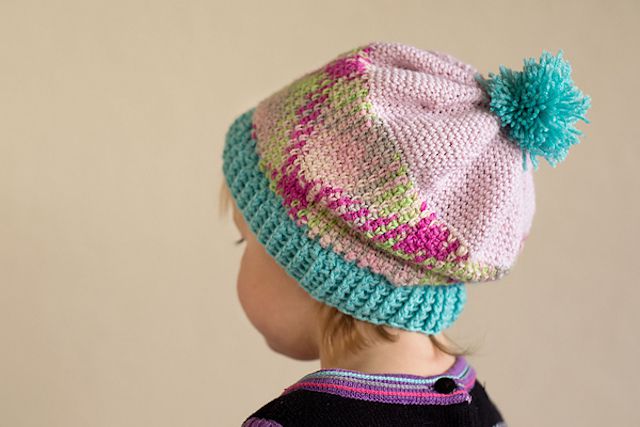 Crochet baby hats are a top choice for many crafters. You can make them very simple or get really detailed with the designs. There are baby hats for all seasons, in all different styles. The crochet hat patterns here showcase the best variety of different designs for stylish babies.
Continue to 2 of 16 below.
Baby Crochet Animal Hat Patterns

The Birds and the B's

Continue to 3 of 16 below.

Double Crochet Beanie Hat Free Pattern

Oombawka Design

Of course, there are much simpler crochet baby hats, as well. The basic beanie worked in double crochet is a nice choice. This crochet patterns comes in all sizes so that you can make matching designs for everyone in the family or make new ones as baby grows up. The designer also offers a variation using a bulky weight yarn.

Continue to 4 of 16 below.

Sunshine Hat Free Crochet Pattern

Pure Peace Crochet

Continue to 5 of 16 below.

My Favorite Beanie Free Crochet Pattern

The Stitchin Mommy

This crochet beanie uses more advanced crochet stitches, including post stitches. It comes in eleven sizes, including lots for babies of different ages. The preemie size is available as a free crochet pattern.

Continue to 6 of 16 below.

Butterfly Stitch Crochet Hat Pattern

Butterfly Stitch Crochet Hat Pattern. Just Be Happy Crochet

Continue to 7 of 16 below.

Crochet Pixie Bonnet Free Pattern

B.hooked Crochet

This pixie bonnet uses a thick-and-thin yarn that works up quickly and ends up super cozy. It is an easy crochet pattern using half double crochet stitches. The tassels on the ends give it a fun shape and style.

Continue to 8 of 16 below.

Chunky Cabled Heart Hat Crochet Pattern

Salty Pearl Crochet

Chunky yarn is combined with a cabling technique for a warm winter hat decorated with beautiful heart shapes. This crochet pattern is offered for free in the toddler size and can be purchased for other sizes, including one for baby.

Continue to 9 of 16 below.

Crown Baby Hat Free Crochet Pattern

Jessica Robbins

This crochet hat is designed for preemies and newborns and is a terrific option for donating to your local NICU. The brim can be rolled up, which provides a better fit and also looks like a crown.

Continue to 10 of 16 below.

Cushion Cluster Beanie Crochet Pattern

Stephanie Maher1

This crochet pattern uses an ombre yarn in combination with cluster stitches to create a design that looks more intricate than it really is. It's a great choice for impressing people with your crochet skills.

Continue to 11 of 16 below.

Crochet Football Earflap Hat

Repeat Crafter Me

Continue to 12 of 16 below.

Seamless Earflap Hat Free Crochet Pattern

Lindsey Carr

This version of an earflap crochet hat uses a terrific yarn selection for colors that pack a punch. This free pattern, available as a download on Ravelry, comes in six sizes from newborn through adult.

Continue to 13 of 16 below.

Planned Pooling Crochet Baby Hat Pattern

Melody's Makings

Continue to 14 of 16 below.

Textured Crochet Baby Hat Free Pattern

Textured Crochet Baby Sweater Free Pattern. Suzie's Stuff

Continue to 15 of 16 below.

Baby Bonnet and Booties Crochet Pattern

Meadowvale Studio

Don't want to make a whole sweater but still want to make a baby set? A matching crochet baby hat and booties set is always a great choice. This one is an adorable bonnet that will keep the sun off of baby's feet.

Continue to 16 of 16 below.

Leaping Stripes Free Crochet Pattern Set

Moogly

These crochet hats, available in varied sizes, including one for baby, are designed using a unique stitch pattern that Moogly calls "Leaping Stripes and Blocks." These hats are designed to match other patterns using the same stitch, including a crochet blanket and a crochet messenger bag pattern.
Source: https://www.thespruce.com/baby-hat-crochet-patterns-4129118